GraVisMa
Computer Graphics, Computer Vision and Mathematics
in cooperation with Eurographics
(Registration: http://wscg-reg.zcu.cz/GraVisMa/)
was held at
University of West Bohemia, Campus Bory
Plzen, Czech Republic

September 2-4, 2009
Co-Chairs
Vaclav Skala, University of West Bohemia, Czech Republic
Dietmar Hildenbrand, Technical University Darmstadt, Germany
Speakers
Eckhard M. S. Hitzer: Fourier and Wavelet Transformations in Geometric Algebra
Fukui University, Japan
Werner Benger et al: Using Geometric Algebra for Navigation in Riemannian and Hard Disc Space
Louisiana State University, USA
Anthony Lasenby et al: Rigid Body Motion and Conformal Geometric Algebra
Cambridge University, U.K.
Leo Dorst: Conformal Geometric Algebra by Extended Vahlen Matrices
University of Amsterdam, The Netherlands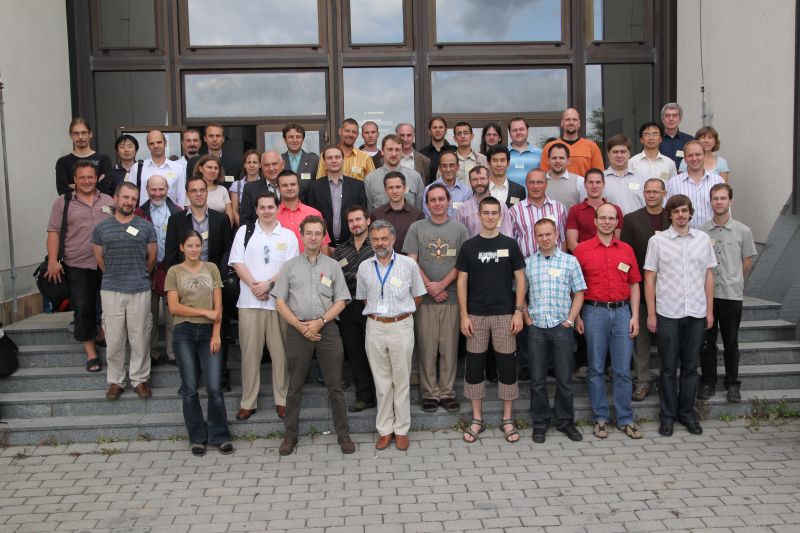 GraVisMa 2009 Image [6 MB]
GraVisMa Extended Abstracts Proceedings [3,2 MB]
GraVisMa 2009 - FULL papers proceedings (PDF) [13 MB]
GraVisMa 2009 - FULL papers proceedings (PDF ZIPPED) [12,1 MB]
GraVisMa workshop Program
Chair persons

Supporting organizations
University of West Bohemia, Faculty of Applied Sciences,
Microsoft Czech Rep., NVIDIA
GraVisMa workshop is a unique forum for researchers, practitioners, developers and academia experts to discuss new approaches and methods in Computer Graphics, Computer Vision, Scientific Computation, Scientific, Medical and Information Visualization with application of the latest developments in Mathematics and Physics.
Goals of the GraVisMa workshops is to bring theory of the Projective Geometry, Geometric Algebra and Conformal Geometry to practice especially in the fields related to Computer Graphics and Vision, Scientific Computation and Visualization.
GraVisMa workshop will bring new impulses to related fields of computer science, especially in development of new approaches and algorithms and will stimulate research activities between mathematicians and computer science experts.
Informal atmosphere of the GraVisMa workshops will stimulate scientific discussions between researchers and practitioners, that will lead to further research international collaborations and projects proposals as well.
Main topics of workshops (but not limited to)
Computer Science fields
Mathematical fields
Interesting applications

Numerical Computation
Projective Geometry
Geometric Algebra
Conformal Algebra
Grassmann Algebra

Other Mathematical Aspects


Technology issues

GPU/CUDA/TESLA Computing
Intel Larabee technology
Signal Processing processors

Influence Mathematics to Computer Science related fields

Computer Science inspiration to Mathematics


Educational Aspects


Programming Tools and Systems


Other related topics
GraVisMa 2009 workshop was held in Plzen (Pilsen) city
Plzen city is very historical and cultural city, famous of invention of a unique beer technology used worldwide, nowadays.
You can find many historical places including the second largest synagogue in Europe, Rotunda from the 10st. century, historical underground.
Plzen has a very good and frequent connection pro Praha (Prague), the Golden European city [approx. 60 mins.]

GraVisMa workshops offer not only scientific and cultural opportunities, but also unique opportunity to taste the Pilsner Urquell beer - the best beer all over the world.
Contact & Workshop office
Prof. Vaclav Skala
c/o Center of Computer Graphics and Visualization
Department of Computer Science and Engineering
Faculty of Applied Sciences
University of West Bohemia
Univerzitni 8
CZ 30614 Plzen
Czech Republic
SKYPE: use my e-mail address
Tel. (+420) 377 63 2473 , Tel.[secretary] (+420) 377 63 2401 Fax/Tel: (+420) 377 63 2402
e-mail: skala..(at)..zcu.cz subject: GraVisMa2009
http://herakles.zcu.cz/~skala http://Graphics.zcu.cz